Our environmental policy drives how we run our business and the products that we create.
WE ARE A TOP ACCREDITED ETHICAL COMPANY
We are very pleased that Broadreach Nature continues to be Accredited and continues to score high in the published ratings for Ethical Company Awards on The Good Shopping Guide.
As a result of our new Vegan Society certification, Broadreach Nature's Ethical Company Index score has increased to 91 – an excellent result! We hope that the independent endorsement achieved through Ethical Accreditation continues to underpin the successful development of our business.
HOW DO WE WORK TO MAINTAIN OUR ETHICAL FOCUS
Recycling – we only use recyclable packaging and make sure, where possible, to use only recyclable pots for our range of supplements and other healthcare products.
We do NOT test on animals – we do not as a company test on laboratory animals for medical purposes, but rather rely on our specialist in-house vet who uses integrative natural medicine. She is head of our formulation team and will be bringing out new and exciting products in the near future. A recent product being our Vision Berry.
Our Suppliers – we only work with likeminded suppliers and service providers to ensure our ethical standard is retained throughout.
ENVIRONMENTAL INITIATIVES
Broadreach Nature has just launched the first of our ENVIRONMENTAL INITIATIVES. With 400 Native Species of British Woodland Trees already established we have dedicated another 20 Acres of Broadreach Land to the planting of additional native trees. With every £100 spent on Broadreach Nature products we will plant a tree on your behalf.
With the backing of local Nationwide and Barclays Bank Branches offering up volunteers to help plant the teams are all ready to make a difference to the environment and support Broadreach Nature in our Sustainability Commitment.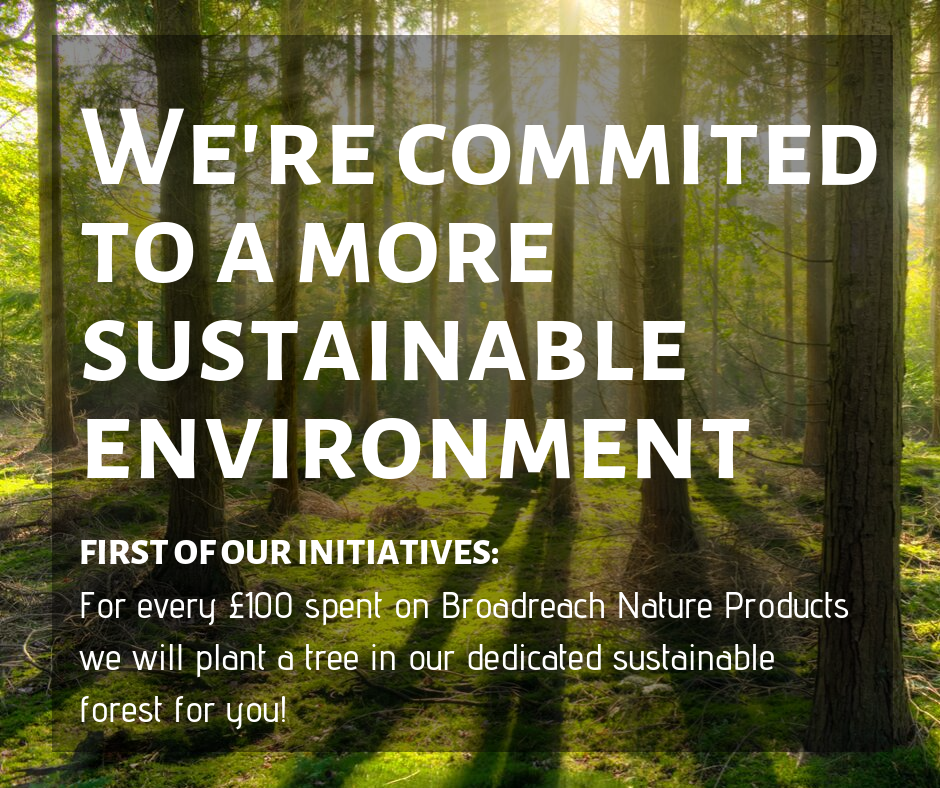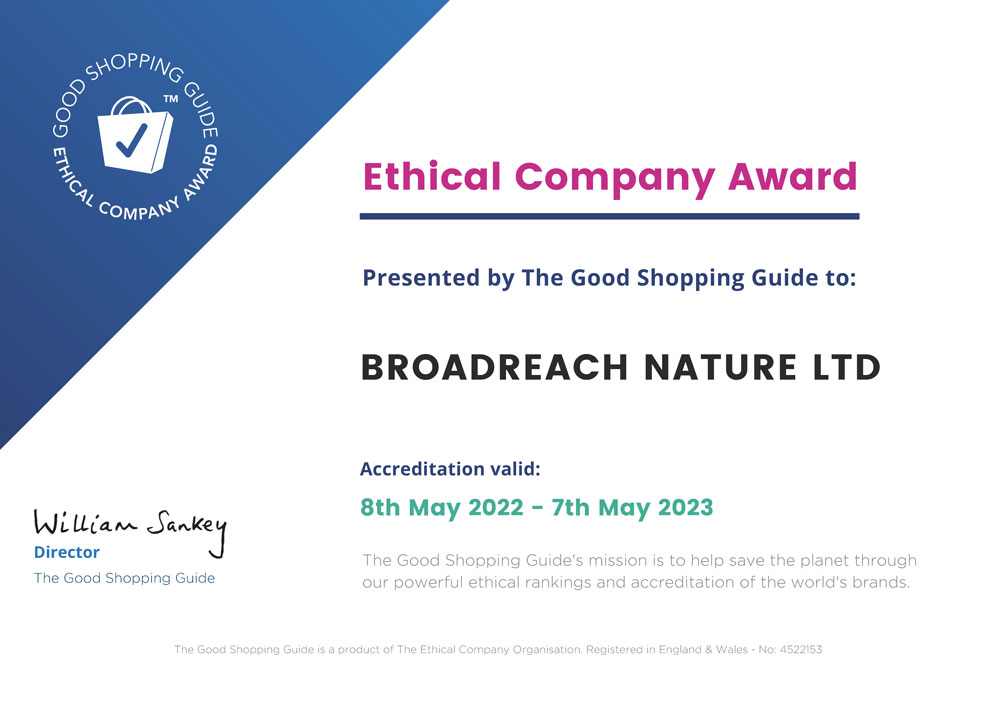 Broadreach Nature's Environmental and Ethical Policy means we are committed to the Health and Wellbeing of Pets by not only offering the best possible natural products for Customer's Pets but because we also care about the environment and want to leave as light a footprint on it as possible.
We have been awarded Ethical Accreditation again for 2022 and again were added to the Cat & Dog food section of The Good Shopping Guide, receiving a top scoring 85 ECI!
All our GRAIN FREE FOOD AND TREATS are non GM and responsibly sourced from farms that adhere to all UK and EU legislation for Welfare and Safety using only Natural Ingredients which means they are not only healthier for the animals consuming our food but also better for the environment.
Our ADVANCED HEALTH SUPPLEMENTS RANGE is manufactured in Pharmaceutical Grade facilities to GMP standards using only EU Regulated and Approved Ingredients so our customers can be assured of the highest quality and processes.  All these ingredients are carefully sourced and go through a number of quality and safety checks and measures to make sure the end product is of the highest standard.
The GRAIN FREE FOOD AND TREATS RANGES are all made in the UK in GMP Environment to the highest of standards.
All are made using Natural Ingredients with no added artificial colouring, flavours or preservatives with no animal derivatives.  The food is Natural, Complete, Balanced and Vet Approved.
Our packaging is secure and resealable to ensure that our product stays fresh as long as possible and to prevent wastage.
We are using Recyclable product pots and bottles and packaging as much as we can and working towards making all of our packaging fully recyclable or biodegradable.  When sourcing packaging we work closely with our suppliers to innovate ways to produce more environmentally friendly packaging.
Our AIR DRIED TREATS AND CHEWS RANGE are 100% natural and produced in the UK from Defra approved Farms that adhere to all current UK and EC legislation Health and Welfare guidelines with regards to Animal Welfare (this is very important to us as a company)
We are focused on looking at the best ways to recycle our own office materials, reuse boxes for packing as much as we can and the packing materials inside that comes with them.
We use long life bulbs in the office and have fitted a solar power system in place which we utilize for our office electricity and also feed back into the grid.
We are very specific in the logistics contractors that we have selected to make sure they are Carbon Neutral i.e. DPD who won the Queens Award for their Services.   This also means we can reduce our own transport usage to the post office as our orders are collected daily.   Most of our business is conducted via Email or phone and online therefore we can restrict the transport emissions and fuel costs that we would otherwise need to use.
We operate the office in an efficient manner only printing off what we absolutely have to.
Our Environmental Policy means we like to work with manufacturers that have a strong ethical and environmental policy similar to ourselves.
However, we don't sit on our laurels and are constantly reviewing our operations to look at further ways we might be able to improve – we've even gone so far as to plant 400 trees.
We're are also very happy to announce that we have been awarded Ethical Accreditation! We were recently added to the Cat & Dog food section of The Good Shopping Guide, receiving a top scoring 85 ECI.