Broadreach Nature + Teams Up with PawSquad to offer 24/7 Veterinary Advice to Retail Customers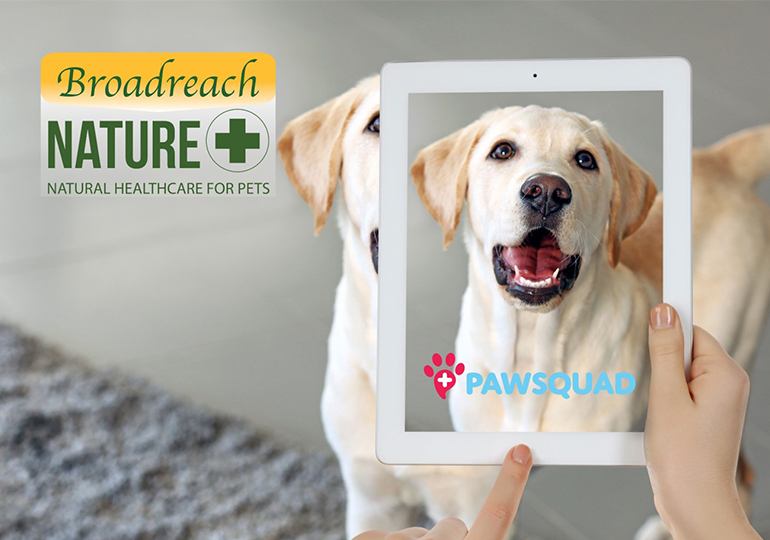 As always Broadreach Nature + are at the forefront of supplying our customers with high quality service and products.
We think of the health of their pets 24/7 and Broadreach Nature + believe our retail customers and their pets deserve only the best and that is why we have partnered with PawSquad to offer our retail customers free vet advice at any moment they need it. And we're very proud to be one of the first product online shops to provide this service to our retail clients and their pets.
With access to online vets they are able to receive live support via online chat and video chat any time of the day or night.
Their free membership with Broadreach Nature + which can be activated at any time, gives them direct access to this free facility which includes:
• Access to fully qualified vets who will talk to them and can observe their pet face-to-face over video or via images and videos they upload beforehand.
• Emergency support for any pet problem around the clock and 7 days a week.
• Immediate pet advice wherever they are.
• Independent vet advice wherever they are.
• No more unnecessary vet trips.
• Personalised assessment and health plan for their pet.
We are very excited to be working with the PawSquad team who are highly experienced veterinary professionals. All of their vets are UK qualified, with on average 12 years' experience in practice. Most importantly, they're true pet lovers who are great with both pets and humans alike.
Future advances in our service provision could be to extend this offering to our trade customers as well, so keep an eye out for updated news on this.
Kitti a PawSquad user had this to say, "We are amazed at the level of service provided – you even receive a report written by the vet to pass on to your own practitioner if needed. Seamless service and would recommend to anyone who loves their pet!"
As always Broadreach Nature + is committed to being their for our clients pets at every stage of their life.