Autumn Hazards for Pet Owners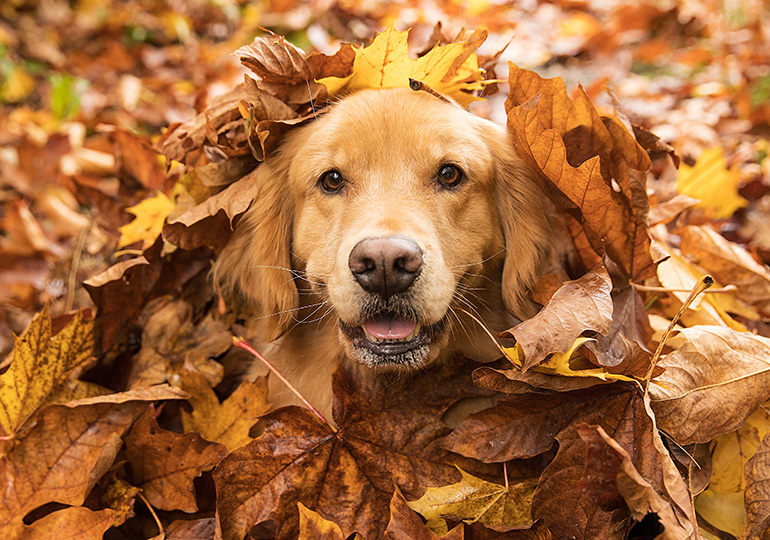 Some of you may have already noticed the changing colour of the leaves to that autumnal glow, when the business of summer seams to slow down and we move even deeper into the second half of the year.
But with autumn comes some important things to look out for if you are a pet owner.
Falling leaves mean leaf mould
Leaf mould contains bacteria and can contain other fungi, which if eaten can lead to a poorly tummy. Dogs love running through the leaves causing havoc but be sure to clean your dog properly after a leafy jaunt to prevent this. If they do get a poorly tummy try out Broadreach Nature Probiotic
Harvest Mites can irritate
At the end of summer these annoying red mites position themselves on the long grass and attach themselves to your dog's coat – think of an itch you just can't satisfy, and you have a deeper understanding of what your dog may go through. Make sure to check your dog all over especially ears, eyes, nose, belly and between the toes.
Dropped fruit
With so many wild fruit trees it is important to remember that this time of year means a lot of dropped fruit on the floor. And fermenting fruit can mean natural alcohol which can be problematic to some dogs with an upset stomach and in some cases a cause toxic reaction. So keep an eye on what your dog is eating when off the lead. If they do eat a large quantity keep an eye on them and remember to seek veterinary advice if you are worried. If you have questions for the vet remember we offer a 24/7 veterinary advice service via PawSquad – check this great service out here.
Dog's shouldn't play Conkers
Those green spiky shells hiding one of our favourite childhood games – conkers – can be a great temptation for your dog. So do try and keep them away from the bottom of Horse Chestnuts.
Bonfire Night and Halloween
Autumn wouldn't be Autumn without these two traditions but remember they can often be scary times for your pets. Loud noises, big crowds and fireworks can often be very unsettling. We suggest using our Calm Care Range for Dogs and Cats during this time to support your pet in coping with these events.
Icy Windscreens
When approaching the end of Autumn our windscreens ice up and we are prone to use anti-freeze. Remember that this can be fatal if ingested by dogs and cats, even the smallest amount. With its sweet smell and taste it can be tempting for a dog or cat to eat so keep it out of harm's way.
But in the end don't forget to enjoy time with your pet
But even with these hazards we know you will continue to enjoy this wonderful season with your pets and hope our advice will assist you in keeping your furry family safe.
For more health and advice articles see our website at https://broadreachnature.com/blog/